Variable Presentations in Pulmonary Arteriovenous Malformation
1
Senior Resident, Department of Radiodiagnoses, Sher - i - Kashmir Institute of Medical Sciences

,

Soura, Jammu and Kashmir

,

India
Abstract
Pulmonary arteriovenous malformations (PAVM) are a group of vascular anomalies of lung which present with variable clinical symptoms. Most patients with PAVM are asymptomatic but it can cause dyspnea on exertion, paradoxical emboli to brain causing various central nervous system complications like stroke and brain abscess, hemoptysis and rupture. The age at the presentation can range from 1st to 7th decade but the majority of patients present before the age of 30 years. PAVM is strongly associated with hereditary haemorrhagic telangiectasis which presents with epistaxis, mucocutaneous telangiectasias and AV malformations of various organs. In our case series, we have patients ranging from 3 yrs to 75 years with presentation ranging from asymptomatic to exertional dyspnea, hemoptysis and neurological complications.
Keywords
Pulmonary arteriovenous malformation, brain abscess, embolisation, hereditary hemorrhagic telangiectasia.
Introduction
The first description of PAVM was made by Churton in 1897 who reported PAVM in a 12 year old male presenting with epistaxis, haemoptysis, and pulmonary systolic bruit. On postmortem examination he was found to have multiple PAVMs bilaterally. [1] Rhodes established that PAVMs are associated with telangiectasias in 1938. [2,3]
In 1942, Hepburn and Dauphinee performed successful surgical removal of pulmonary haemangioma. [4] Packard and Waring performed surgical ligation of pulmonary artery to treat PAVM as an alternative to lung parenchymal resection in 1945. Surgical intervention remained the mainstay of treatment until 1978 when Taylor performed first successful percutaneous arterial embolisation of a PAVM. [5]
Case Series
Case 1:
70 years male patient who presented with history of recurrent hemoptysis. On NCCT chest initially ,he was diagnosed as a case of organizing consolidations, but as hemoptysis persisted, CT angio was done which showed AVM in right middle lobe as shown in [Figure 1].
Case 2:
A 75 years female patient presented with dyspnoe to emergency department.NCCT chest showed hemothorax on right side with varying density. CT pulmonary angiography was done which showed two large pulmonary AVMs with one of the AVMs showing active contrast extravasation. So this case presented as a case of hemothorax secondary to spontaneous rupture of pulmonary AVM [Figures 2-5]
Case 3:
A 21 year old male patient who was on followup as a treated case of lower limb osteosarcoma. On followup CECT a pulmonary AVM was noted in right lower lobe as an incidental finding.So pulmonary AVM can be asymptomatic and present as an incidental finding on routine imaging [Figure 6, 7].
Case 4:
A 3 year old male patient presented with fever headache and altered sensorium and MRI brain revealed a brain abscess. Chest X-ray revealed an opacity in right lung and CT angio showed evidence of a large pulmonary AVM. The brain abscess in the patient had resulted from paradoxical embolization because of shunting of blood in pulmonary AVM [Figures 8-11]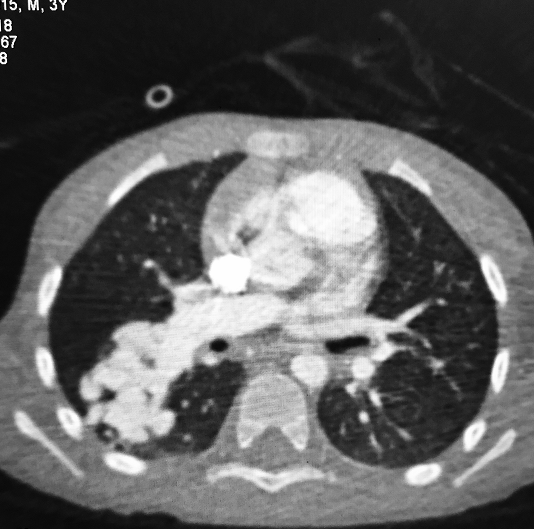 Case 5:
A 28 years old male patient presented with complaints of recurrent epistaxis and mucosal telengiectasia. Chest Xray showed a nodule in right lung. On CECT a pulmonary AVM was noted in right upper lobe. Another AVM was also seen in liver in the same patient and a diagnoses of Hereditary hemorrhagic telangiectasia was made in the patient [Figures 12,13]
Conclusion
PAVMs are a rare clinical identity. A strong association between PAVM and HHT exists. Due to variable presentations of this clinical identity, all the patients having telangiectasia with dyspnea, cyanosis or neurological symptoms should be screened for PAVMs. Imaging is the backbone of the diagnosis and for taking the management decision. The chest radiograph sometimes suggest the diagnosis of PAVM, however, it lacks both sensitivity as well as specificity. Contrast enhanced CT angiography and pulmonary angiography are usually diagnostic with high sensitivity and specificity especially for documenting the number and location of all lesions before planning the appropriate management. Embolisation of the PAVMs is safe and effective procedure with fewer complications and it should be the preferred treatment option for PAVMs. Surgical procedure especially lung conserving resection remains an alternative option for those symptomatic patients in whom embolisation fails or in whom it is technically not feasible. Small PAVMs have a potential risk of serial growth and previously occluded ones may recanalise, making regular follow up a must in all cases of PAVMs.